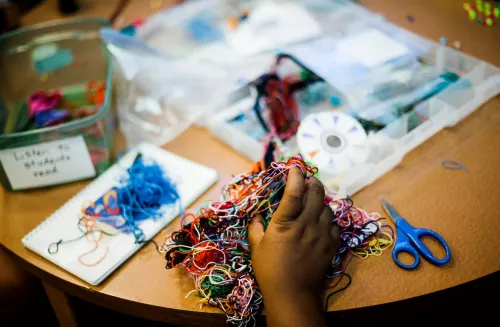 Materials
The following list of materials is optional. Feel free to select as many options as you are able to, including any additional arts and craft supplies you may have on hand.   
Construction paper, skin toned colors  

A wide variety of different images of people cut out from magazines, old calendars, posters or online image searches  

Origami paper, scrapbook paper and/or paper with various textures  

Various fabric  

Scissors  

Glue sticks, glue, tacky glue  

Several handheld mirrors, enough for youth in the group to share  

A large table or group 

workspace covered with drop cloths or tablecloths to protect surfaces as needed

   
Instructions
Youth create a collage self portrait out of various material.
Step 1 
Say, "We're going to explore creating collage artwork today to make a self-portrait. Collage art usually combines pieces of torn or cut paper, images, etc. to create one new image. You will have a chance to create a self-portrait using all the materials we have out. There is no right or wrong way to do this

! You can use the handheld mirror to look at yourself while you create your portrait or you can be creative with shapes and sizes or pictures."   

Instruct youth to take a few minutes to look through all the images and materials and select what they would like to use to create their face.  
Say, "You could create a collage using images that remind you of your own features, such as images that have a similar shape and color as your eyes or similar hair styles. You could make more of an abstract portrait using basic shapes and torn pieces of paper."  
Remind youth they can use the handheld mirror while they work if they want.    
Step 2    
Allow youth time to get their material and start creating their self-portrait.  
Encourage youth to add features by using torn/cut paper or cut images combined together that make them unique, such as a favorite hairstyle, favorite clothing, jewelry or favorite food. They can also add places or hobbies in the background

once they finish their face.

  
Remind youth they can cut, rip or tear paper to make up their face and background.   
Acknowledge what others are doing without using praise. For example: 

"I notice Llana is cutting strips of paper for his hair.

"

   

"Tate

has selected different pieces of fabric as her eyes, nose and mouth."

   

"Look at how Margo

stacked different pieces of black and brown paper together to make the hood of his sweatshirt."  

Allow youth to continue until the paper is filled or for as long as time allows. 

   

Say, "Now take a step back and walk around the table to look at all the different portraits."